OHSAS 18001 : 2007 Certified Jacketed Valve Manufacturers, Stockist, Supplier, Importers, Stockist, Maintenance Free, Class One Quality Jacketed Valve
Nivz Valves & Automation – An OHSAS 18001 Certified Valve Manufacturer Company, Valves, Strainer, Filters, Sight Glass, Flow Indicator Manufacturer, Exporter.
Maintenance Free, Zero Leakage, #1 Quality Jacketed Valves Manufacturer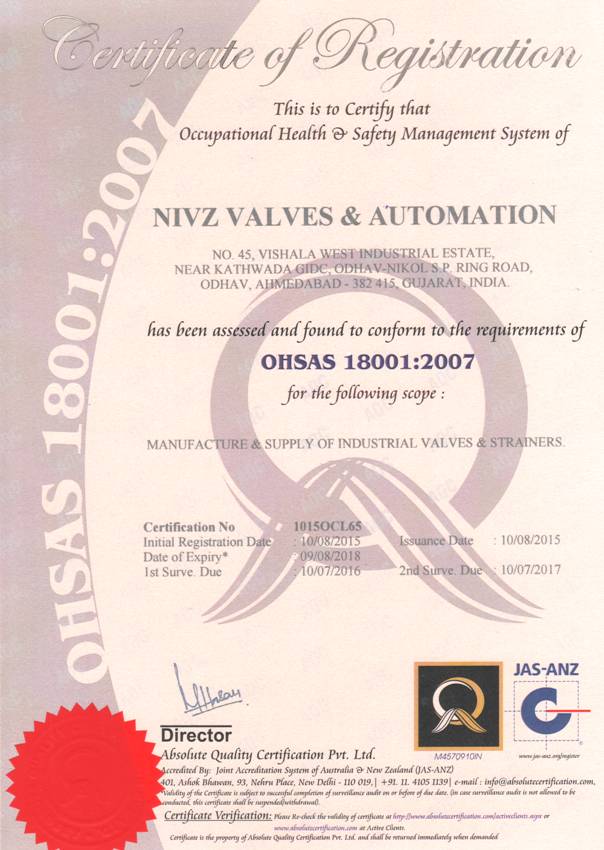 Scope: Manufacture and Supply of Industrial Valves & Strainers
Certificate No.: 10150CL65
Valid until 09/08/2018
An environment friendly company manufacturing – exporting of all types of Industrial Jacketed & Non Jacketed Valves and supplying to more than 30 countries around the world with target to cross 50 countries by 2020. Nivz Valves and Automation manufacturer and exporter of Jacketed Valve in all body materials like Hastelloy C22, Hastelloy C276, Duplex Steel, Super Duplex Steel, Monel, Inconel, Austenitic Stainless Steel, Alloy Steel and Carbon Steel various grades.