Jacketed Ball Valves – Ask For Quality Valves in Ready Stock
Jacketed Ball Valves, Jacketed Ball Valve, Steam Jacketed Ball Valve, Thermal Hot Oil Jacketed Ball Valve, Therminol Jacketed Ball Valves, Jacketed Valves, Jacketed Ball Valves Manufacturers, Exporters, Supplier, Stockist, Importer. Molten Naphthalene, Bitumen, Asphalt, Coal Tar, Pitch, Molten Sulfur, Sulphur, Resin, Polymer Media Application Jacketed Valve Manufacturer.
Nivz Valves a leading exporter and manufacturer of various application suitable Full Jacketed Ball Valve with standard features like Single piece design heavy duty rugged body, Regular port (Reduce bore) or Full bore both choice option with fully steam or hot oil jacketed
Manufacturing product range model FJK80/81 each Jacketed Ball Valve have by default provision of ISO 5211 Direct mounting pad, Elliptical gland flange for stem sealing, Chevron type V shape gland packing rings, API 6FA/API 607/BS ISO 12266-II/BS 6755-II Standard Fire safe design secondary metal seats, High temperature media suitable ball seat rings, Hand lever locking provision/arrangement in open or close position.
Jacketed Ball Valves largely use to sustain process media temperature during process to keep fluids at a lower viscosity to operate valve smoothly.
Each Jacketed Ball Valve body construction replace by adding minimum one size higher flanges to achieve proper tighten space of bolt and nut.
As example: for Full Jacketed Ball Valve Size DN50 x DN80 (2" x 3"), Jacketed Ball Valve has the nominal bore of DN50 (2" – 50MM) and the flange size DN80 (3" – 80MM), which allows enough space for bolting clearance after jacket fabricated (welded) on modified valve body. These types of jacketed ball valve termed as a Full Jacketed Ball Valve.
We are Jacketed Ball Valves manufacturer in size starts from DN15 x DN 40 (1/2″ X 1-1/2″) to DN150 x DN250 (6″ x10″).
Model FJK80/81 series Full Jacketed Ball Valves are manufacture with various material grade of Body, Jacket & Seats to suit various viscous services.
Full Jacketed Ball Valve available with body materials Cast Caron Steel (WCB), Cast Stainless Steel (SS304-316-304L-316L,CF8/CF8M/CF3/CF3M), Low Temperature Carbon Steel (LC1/LCB/LCC), Duplex Steel (D2205), Super Duplex Steel, Hastelloy (HC-C22/HC276), Alloy 20 (CN7M) etc.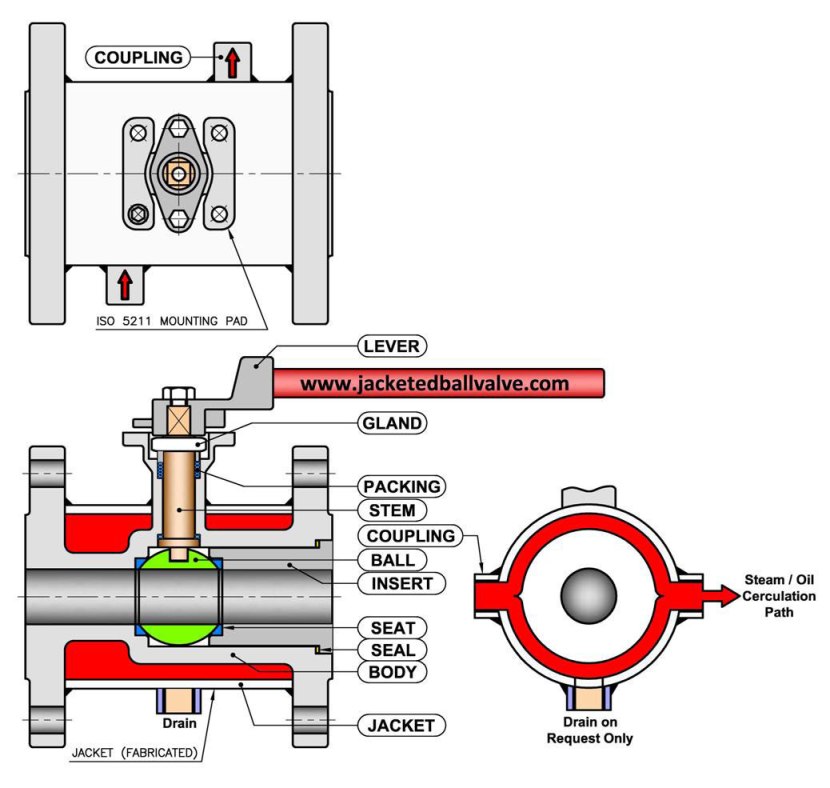 Nivz all full jacketed ball valve face to face distance we provide as per ANSI/ASME B 16.10 standard of oversize flange size which facilitate to replace in future with any standard non jacketed valve also.